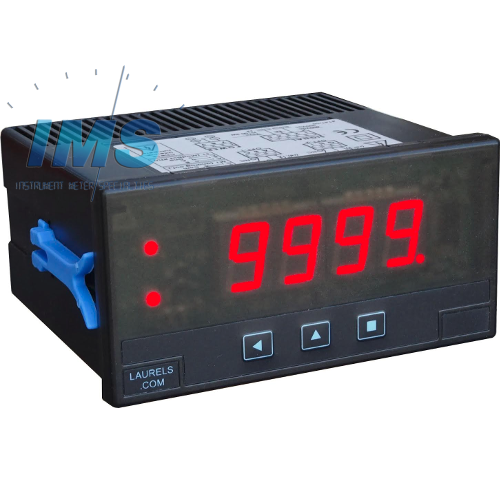 L40
Model L40 Process Meter, 0-400VAC, User Configurable, LED Display, 18-265V AC/DC power supply, Laurel
Model L40 is a low-cost, universal meter for 65 user-selectable analog input signal types and ranges. These include DC voltage and current, AC RMS voltage and current, process signals (4-20 mA, 0-10V), thermocouple (10 types, °C or °F), RTD (6 types, °C or °F), thermistors (NTC or PTC), resistance (0-5k or 0-50k ohms), and potentiometer inputs. The same meter handles all of these signal types with no need for a plug-in signal conditioner board. The meter's universal power supply accepts voltages from 18V to 265V, AC or DC, so that power can be 24 Vdc or AC power in any country. The meter conforms to the popular 1/8 DIN size standard and features four 14.2 mm (0.56") high red LED digits. The display is user scalable for input types other than temperature.
The base L40, as shipped by Laurel, is set up so that a 400 Vac input reads 400. To change to another signal type or range, pry off the meter faceplate, push out the electronics, and place jumpers as illustrated in the manual. The jumper positions are well labeled, and the jumpers have a large, easy-to-grasp handle. Also make software selections using front panel keys. If you want Laurel or your distributor to set jumpers and do the front panel programming for you, order the FS option.
Extensive software features add flexibility to this low cost meter. Programmable features include five levels of display brightness, min and max capture, dual scaling selectable by an external control input, a deadband around 0 for AC measurements, a moving average digital filter, a "count by" function, hysteresis for alarm operation, a user-configurable fast access menu, and selectable password protection. Further flexibility is provided by 1 or 2 optional output boards, which can be added at any time.
An Option 1 board can plug into the display board. This can be a single 8A relay board, an isolated active or passive 4-20 mA analog output board, or an isolated Modbus compatible RS485 serial data output board.
An Option 2 board can plug into the Option 1 board if installed. This is another single 8A relay board. For example, this board allows an L40 to have and analog output and a relay output, or to have two relay outputs.
If only a single meter is to be stocked for a large number of applications, the low-cost L40 is your choice. While this meter does not match the high accuracy, speed and programmable features of our Laureate series, it is perfect for many panel meter applications.
User-selectable ranges
DC voltage: ±60.0 mV, ±200.0 mV, ±2.000V, ±20.00V, ±200.0V, ±400V
DC current: ±20.00 mA, ±5.00A
AC RMS voltage: 60.0 mV, 200.0 mV, 2.000V, 20.00V, 200.0V, 400V
AC RMS current: 20.00 mA, 5.00A AC
Process: 4-20 mA, 0-10V with 15V, 30 mA excitation output
Thermocouple types: K, J, E, N, L, C, R, S, B, T
RTD types: Pt100, Pt500, Pt1000, Ni100, Ni200, Ni1000
Thermistor types: NTC, PTC
Resistance: 0-5.000 kΩ, 0-50.00 kΩ
Potentiometer input: 500Ω to 20 kΩ
Options
1 or 2 mechanical relays, 8A, 250Vac
Isolated analog output
RS485 Modbus RTU data output
Standard Features
Universal power: 18 Vac/dc to 265 Vac/dc
1/8 DIN case with 3 front panel keys
Display: 4 red LED digits, 14.2 mm (0.56")
Typical accuracy: 0.2% of full scale
Removable screw-clamp connectors
External control input
Specifications
Brand

Laurel

Model

L40

Form Factor

96x48mm 1/8 DIN

Input Frequency

DC

,

50Hz

,

60Hz

Input Range

0-10VDC

,

0-200mVAC

,

0-200mVDC

,

0-200VAC

,

0-200VDC

,

0-20mAAC

,

0-20mADC

,

0-20VDC

,

0-2VAC

,

0-2VDC

,

0-400VAC

,

0-400VDC

,

0-5AAC

,

0-5ADC

,

0-60mVAC

,

0-60mVDC

,

4-20mADC

,

B-T/C

,

C-T/C

,

E-T/C

,

J-T/C

,

K-T/C

,

L-T/C

,

N-T/C

,

Pt1000 RTD

,

Pt100 RTD

,

Pt500 RTD

,

R-T/C

,

S-T/C

,

T-T/C

,

0-20VAC

,

Ni100 RTD

,

Ni200 RTD

,

Ni1000 RTD

,

Potentiometer 500 Ohm to 20k Ohm

,

NTC Thermistors, Specify R25 (100Ω to 200.00 kΩ) and Beta (2000 to 5500)

,

NTC Thermistors, Specify R25 (100Ω to 200.00 kΩ) and Beta (2000 to 5500)

,

PTC Thermistor, KTY-121

,

PTC Thermistor, KTY-210

,

PTC Thermistor, KTY-220

Tariff Code

8531.20.0040

ECCN

EAR99