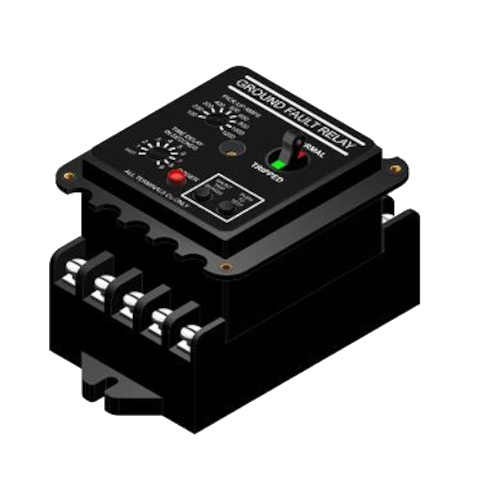 BGFL259-1200 EI
Model BGFL Ground Fault Relay, Door Mount, 120VAC, Without Interlock, Trip Current 100-1200 Amp, Electromagnetic Industries
GROUND FAULT CURRENT DETECTION
Model BGFL Relay
The BGFL system is designed for electrical equipment protection, not for personnel protection.
Application: These Class 1 Ground Fault relays and sensors are used together to provide a system for detecting ground fault current in a grounded AC power system. When the system detects a ground fault that reaches a pre-selected current level and time delay, the relay initiates a trip signal for a shunt trip disconnect device to open and clear the fault. The relays are also available with interlocks (for coordination of multiple devices in a system) and without interlocks (for single device systems).
Operating Range: Trip Currents models are available for 5-60, 30-360, and 100-1200A. The time delay is adjustable from 0.10 to 1 second.
Input Power: 2VA plus shunt coil requirements. (Rated @ 120 VAC)
Input Withstand: 200,000 Amperes RMS for 3 cycles, 50/60 Hz.
Nominal Input Voltage: Inputs available for 120 Volts AC, 125 Volts DC, 48 Volts DC, and 24 Volts DC operation
Frequency: 50/60 Hz
Ambient Temperature Range: -30 Deg C. to 60 Deg C.
Contact Ratings: 

Device Input Power: 120 VAC
Inrush: 10 A
Continuous: 3 A

Two (2) Styles "Standard" (without interlock) and "Zone Interlocking"
Integral test panel with "Push to Test" and "Shunt Trip Bypass" push-buttons for proper testing of device with the ability to trip or not to trip the protective device.
Power On Indication (LED)
Positive Visual Trip Indicator.
Adjustable time delay
Discrete current threshold adjustment.
Clear Plastic Cover
Electromechanical relay output positive "ON" and "OFF"
Operates with molded case power circuit breakers, bolted pressure switches, or fusible disconnect switches.
Meets NEC service entrance equipment standards.
Rear Terminal Kit for Door Mount Units.
Specifications
| | |
| --- | --- |
| Brand | Electromagnetic Industries |
| Model | BGFL |
| Form Factor | Door Mount |
| Input Range | 100-1200AAC |
| Aux. Power Supply | 120VAC 50/60Hz |
| Tariff Code | 8536.30.0000 |
| ECCN | EAR99 |