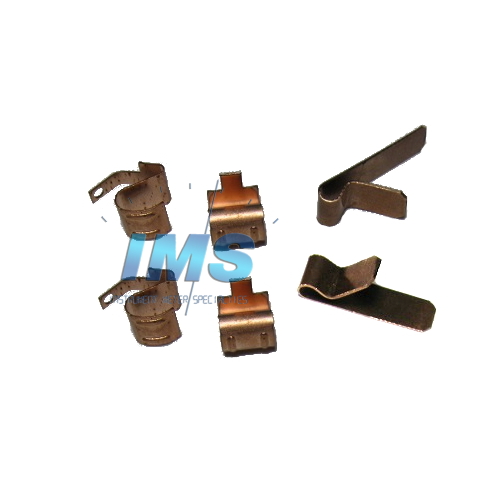 42507
Battery Clip Kit for Simpson Electric model 250, 255, 260 (series 3-5), 261 (series 1-2), 265, 270 (series 1-3)
This kit is for most Simpson test equipment that uses four of an AA and one D-Cell battery and includes the four D-Cell style clips and the two "J" clips, which we form ourselves.
If you need a new battery clip kit for your 260, chances are that other parts may need replacing. Have you tapped the glass on your 260? Does it rattle? If so, you need to get that fixed to keep ferrous debris from making your meter movement stick. Order a new cover and keep your 260 working.
Note: Some customers have observed that the two "J" clips seem to be a bit too long. Unfortunately, when manufacturing these clips, Simpson somehow was not able to keep the lengths consistent. We produce the "J" clips to the longest version, figuring it is better to allow the customer to remove material than it is to make them too short. We do test the "J" clips we manufacture in a Simpson 260 front panel, with batteries, before sending them on to a customer.
Specifications
| | |
| --- | --- |
| Brand | Simpson Electric |
| Tariff Code | 9030.90.8821 |
| ECCN | EAR99 |